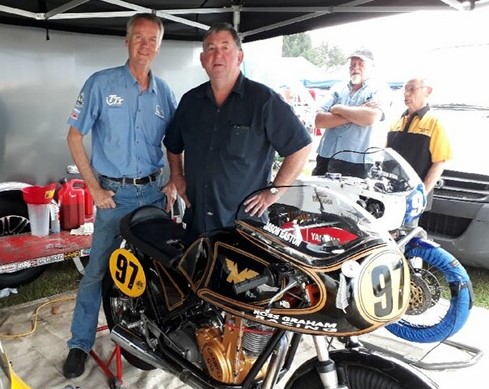 TTI's first ever gearbox superior, hardy and still performing well
The first TTI sequential race gearbox ever sold to a customer is still going strong after 14 years. In fact earlier this month it scored a Kiwi motorcycle and rider three wins and a second. Racing enthusiast Ross Graham who owns the  AMC 6 speed magnesium says TTI gearboxes are superior, hardy and perform well. He says this gearbox has lasted competitions at top levels since 2005 without any breakdowns whatsoever.  At one stage Ross made a few changes – but only to achieve different ratios.  The TTI "number one gearbox" in a McIntyre Matchless pulled off the wins and second placing in four races at the Mike Pero Southern Classic 2019 event in Timaru just days ago raced by Jason Easton on behalf of Ross.
Owner of four TTI sequential race gearboxes
These days Ross is now the proud owner of three TTI motorcycle sequential race gearboxes.  As well as the original number 1 gearbox, he also owns another 6 speed AMC and another 5 speed AMC version.  Ross also has a TTI sequential race car gearbox and after four year and a half years of Targa endurance racing on mostly country roads that gearbox is only now being refreshed at the TTI Nelson workshop.
New Zealand made a draw card
Ross first met TTI founder Bruce Verdon at a big classic bike meeting at Pukekohe.  He saw Bruce's new TTI gearbox on display and competed against Bruce who was racing successfully with it.  Ross says he was sick of having to get his current box repaired and wait for parts to come from overseas so  jumped at the chance to buy a New Zealand made gearbox from Bruce.  He was happy that should he need parts he would be able to get them quickly but as it turned out he didn't need repairs with his new TTI gearbox.
TTI sequential race gearboxes are hardy, perform well and are superior to other gearboxes
Ross says that TTI gearboxes are a good product with good service, made in NZ and with staff easy to deal with.  The reason he likes the TTI race motorcycle gearbox so much is that it has a "far better gear change system than the classic British solder stuff."  TTI gearboxes are far superior, Ross says, with more modern change mechanisms.  They change "better, cleaner, smoother and more direct," he says.  They are superior, hardy and perform well, he says.
Nowadays Ross, born and bred in Taranaki, gets other riders to compete on his bikes but Ross still drives his own cars. He owns a string of truck maintenance companies having been a mechanic all his life so keeps all his vehicles and bikes up to scratch himself.
The number one TTI gearbox will next feature at The Island Classic at Phillip Island in Victoria Australia in January.