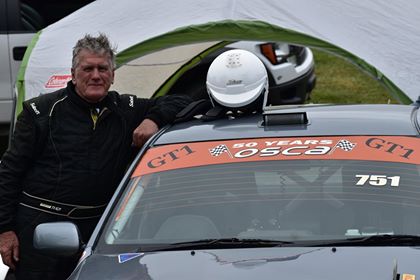 Buying a TTI sequential gearbox with ease of gear changing is a dream come true for retired New Zealand farmer
Retired Geraldine farmer Gerald Hargreaves is living his dream after reigniting his racing career in his twilight years with a TTI sequential race gearbox.  He can enjoy ease of gear changing and ongoing support from TT Industries now he finally has a  sequential race car gearbox.  Driving a race car with a sequential gearbox has been on Gerald's bucket list since he started watching racing cars with sequential gearboxes on television. Last year his chance came. Gerald commissioned two local mechanics to modify an Altezza with a turbo charged 2JZ motor. It has full suspension and an altered motor position.   "I have watched motor racing on TV and thought 'I've just got to have one of those.' Then I got the car and that was my chance!" he said.
A racer from the past
The 76-year-old from Geraldine began his racing career in 1965 as a 22-year-old and raced for eight years before marriage, family and farming took priority. His life changed direction during a lengthy car rebuild after a "spectacular" accident at Christchurch's Ruapuna Race Track in the 1970s.  Gerald says the car went "end over end and sideways four times" after the back wheel was clipped by another car while he was cornering.  Miraculously, given the lack of safety gear in those days, Gerald was uninjured but the year it took to rebuild his car was long enough for his priorities and direction in life to change with marriage and farming taking front seat.
Dare devil and standardisation through OSCA
Gerald calls himself "a bit of a dare devil" when he reflects on his youth.  He found a good friend to be his mechanic and first raced a Chevy coup followed by the Fowog built by Clive Ins and renown in that era.  Gerald and his friend mechanic built a Mark 1 Cortina complete with running gear from a PDL Falcon.  During that time Gerald saw a need to standardise racing with proper class and rules to appeal to the "average person" and encourage them into racing.  As a result he founded the Open Saloon Car Association in the South Island.
OSCA 50th looming prompted Gerald's return
The approach of the OSCA 50th anniversary (this year) enticed Gerald back into racing six years ago. "Started again when I was 70 with  BMW.  When Oscar was reaching 50 years I wanted to join in." he says. Unfortunately rules prevented use of sequential gearboxes in his BMW but the Altezza being raced in the Osca series was a different story.
Love the TTI sequential race gearbox
Gerald reports the TTI sequential race gearbox is going well.  "Had quite a struggle with the car but just love the TTI gearbox," he says adding it is the ease of gear changing and TTI ongoing support which has made buying the TTI sequential race gearbox worth it.  "My learning curve was not as great as I expected." Gerald says that there is "no comparison" between driving an H-pattern to a sequential when racing."It's so easy," Gerald says, adding that correcting your gear when you realise you need to be in another is a breeze.  "The gearbox is amazing," he says.
OSCA success and being back
And Gerald's take on the success of OSCA is very positive.  "The original concept has been an ongoing success.  Great group of people, enthusiastic and all with the same aim – to have fun," he says.  He is enjoying being back on the race track ,although he says he is "winning from the other end" with age and wisdom naturally making him more careful with speed.  Although he  adds that despite a few nerves being back on the track after his accident "you just go for it.  It's just as though I'd never been out of it."
Gerald is next racing in Timaru on March 7 and then a the Highlands Festival of Speed in Cromwell on April 4 and 5.
Find out more about TTI sequential race gearboxes.
Read more about why other racers choose TTI sequential race gearboxes.